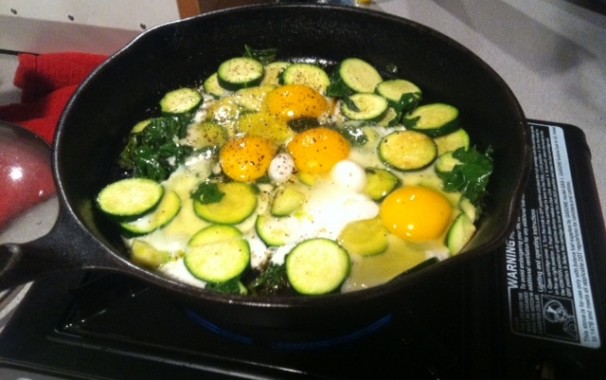 I created this recipe when I was pressed for time and knew I needed a great breakfast. The beauty is that it needs very little of your attention to happen. I found that slicing veggies ahead of time for a few days makes this a snap for busy mornings. There's time for you to wash up, get dressed, and have a fab breakfast ready to go! Set a timer to be safe tho!
Serves 4
Ingredients
1 1/2 Cups zucchini, sliced
1/2 onion, sliced
1 1/2 Cups kale- spine removed and cut into small, bite sized pieces
1 Tablespoon coconut oil
4 eggs
Fine grain sea salt
Fresh ground pepper
Method
Melt coconut oil in a cast iron skillet on medium heat.
Add onion, zucchini and kale and toss to mix. Sprinkle a pinch of salt and some fresh ground pepper on veggies.
Cover and set timer for 4 minutes.
Toss veggies around and arrange them so they are ready to be a flat surface for the eggs.
Crack 4 eggs over veggies. Sprinkle salt and pepper and cover again. Set timer for 4 minutes.
You can flip the veggies and eggs or keep them sunny side up until they are the doneness you like.
Enjoy!
Here's Buff in action as the veggies are sizzling!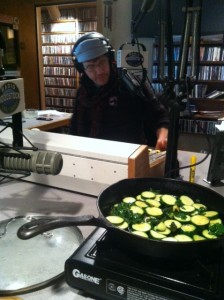 Sign-up for our Newsletter!