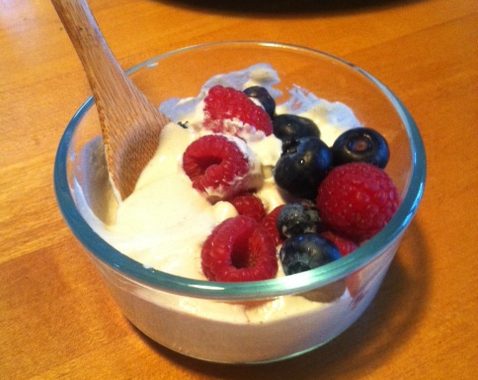 This is a revelation! Enjoy the creamy texture and use as a breakfast, a snack or drizzle some honey or maple syrup and enjoy as a dessert!
It comes out best in a high speed blender, however a food processor will do the trick too. Keep on blending until you get the creamy soft texture.
1 Cup raw Cashews soaked in water 1 hour
1/2 pear or banana
1 lemon juiced
Water
Method:
Soak cashews in water and drain.
Add cashews 3/4 Cup water, lemon juice and pear/banana to your blender.
You may have to stop blender, scrape sides a few times to blend completely.
If your blender is struggling, add more water a Tablespoon at a time. Think texture of yogurt so you want to keep it thick.
Serve with fresh strawberries or your fave fruit on top.
Go straight to heaven from the bliss of this one:)
Sign-up for our Newsletter!