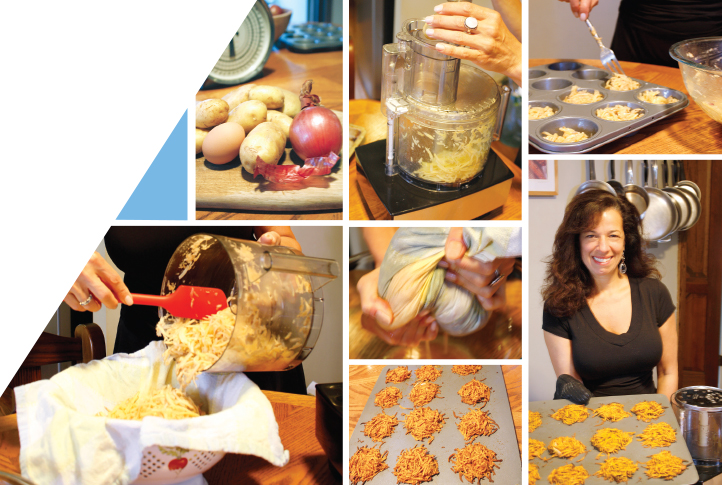 Latkes With A Twist
by Holly Shelowitz
Holiday time means traditions in many families, and latkes are a fun Chanukah dish. In fact, I channeled both of my grandmothers as I wrote these recipes.
The traditional way to make latkes is to sizzle them in a lot of oil—sometimes a whole cup! While I'm a fan of healthy fats, deep frying in oil is something we can all do without. But we are using some oil, so they will still have the crisp memories of deliciousness a good latke is made of. And most recipes call for putting in some muscle using a box grater, but my food processor easily does the trick. Just be sure to squeeze out all the liquid from the potatoes—this makes them crispy!
Top with crème fraiche instead of sour cream and my spiced apple chutney instead of applesauce, and you'll know why I call them latkes with a twist!
Ingredients:
2 large baking potatoes
1 onion
2 eggs
2 tablespoons flour
2 tablespoons olive oil
1/2 teaspoon sea salt
Freshly ground pepper to taste
Coconut oil to coat muffin tin
Method:
1. Preheat oven to 375 degrees.
2. Grate the onion and potatoes in a food processor or through the large holes of a box grater into a large bowl.
3. Scoop into a cotton cloth over a colander in the sink. Press and squeeze out as much of the liquid as you can.
4. Coat a large, six-cup muffin tin or baking sheet with olive oil, and divide the potato mixture evenly into each cup, about 1/4 to 1/2 cup full. If using a baking sheet, flatten with the back of a wooden spoon. The less you fill it, the crispier they will be.
5. Bake for 35 – 40 minutes until the edges are golden brown but not burned. Remove from the oven, and let rest in the muffin tin for 10 minutes before removing. If using baking sheet, flip latkes when top is beginning to brown after about 20 minutes.
To make sweet potato latkes, swap out baking potatoes and use yams. Add 1/2 teaspoon ground cinnamon plus 1/4 teaspoon ground nutmeg. Melt coconut oil and use instead of olive oil. Proceed with recipe as stated.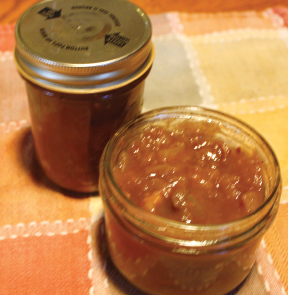 Apple Chutney
This recipe is great for using up your green peppers and green tomatoes. It's outstanding on veggie burgers, grains, fish, chicken — and now latkes! I recommend adding raw honey and raw cider vinegar at the end of cooking to keep it raw. Enjoy!
Ingredients:
6 apples, peeled, seeded, and chopped
3 green tomatoes or tomatillos, chopped
1 green pepper, seeded and chopped
1/2 cup raisins, dates, or other dried fruit
1 tablespoons mustard seed or 1 teaspoon dried red chili
2 onions, chopped
3/4 cup honey
2 cups apple cider vinegar
1 tsp salt
1 tbsp fresh ginger
1 tsp five-spice powder
1 clove garlic
Method:
1. Combine all ingredients in a pot (except honey and vinegar) and simmer until thick (about 20 minutes).
2. Stir often to prevent burning.
3. Spoon into glass jars to within 1/4 inch of tops.
4. Leave on counter to cool. Then refrigerate and use within two months or freeze.
Holly Shelowitz is a culinary nutrition counselor and has been offering nutrition counseling and cooking classes for the past 15 years. Learn more about her work and upcoming classes at nourishingwisdom.com or call 845-658-7887.
Sign-up for our Newsletter!