Thumbprint Cookies
Yield 16-18 small or 12 large cookies
The beauty of these cookies is that you can be super creative. Fill the middle with jam or dark chocolate. You can make these gluten free or grain free by following suggestions below. Be creative and enjoy! Makes 16-18 cookies
Ingredients
1 Cup walnuts, almonds or pecans
1 Cup oat or almond flour
1 Cup rolled oats, ground into flour or additional almond flour
¼ tsp. cinnamon
¼ teaspoon salt
½ Cup melted coconut oil + 1 T for baking sheet
½ Cup maple syrup, or coconut nectar
1/2 Cup unsweetened strawberry, blueberry or raspberry jam, or 2 dark chocolate bars 3 ounces each, melted. See method below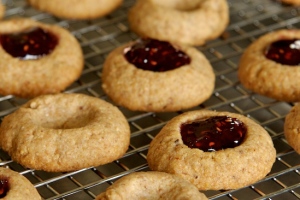 Method
1. Preheat oven to 350. With a paper towel, spread coconut oil on a parchment paper lined baking sheet
2. Combine all nuts/oats (first 3 ingredients) in bowl of food processor and pulse until a coarse flour forms,being careful not to let it go too long or it will become nut butter! Add cinnamon and salt and pulse a few more times to mix
3. In a separate bowl,  with a sturdy wooden spoon, combine wet ingredients until mixed
4. Pour flour into large bowl and make a well in the middle. Add wet ingredients, mix well. You might need to get your hands in there to be sure all ingredients are incorporated evenly.
5. Roll into walnut-size balls and place on the parchment oiled baking sheet. Flatten with the palm of your hand then press in the center with your thumb, making a nice imprint for the jam or chocolate to go. Bake at 350 degrees for 15 minutes, checking at 10 minutes. Nut flour can burn easily.
6. Once cookies are baked, spoon melted chocolate or jam of choice in the middle of each cookie and let cool.
How to melt chocolate in a double boiler
Break up 2 chocolate bars (6 oz) into a 16oz PYREX measuring cup. Place measuring cup into a pot of boiling water, making a double boiler. Lower water to simmer and stir chocolate until melted.
Sign-up for our Newsletter!