Kale with Raisins, Walnuts and Fennel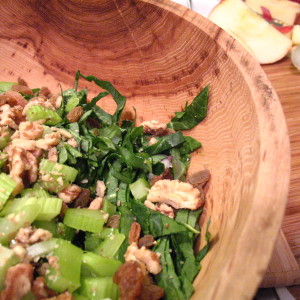 Sauteed Greens with Raisins Fennel And Walnuts
Serves 2 as a meal, 4 as a side

Ingredients
1 bunch of kale or collard greens chopped fine
2 ribs celery, sliced
1/8 Cup raisins, apples or pears
1/4 Cup toasted walnuts
1 Cup chicken or vegetable stock
5 cloves of garlic
1 Tablespoon fennel seeds
1 Tablespoon ghee, coconut oil or olive oil
¼ teaspoon Fine grain celtic sea salt
Method
Prepare and measure out all ingredients.

Wash and slice kale/collards in thin slices. Mash and chop garlic. Toast walnuts in a dry pan on medium heat until fragrant and toasted- being careful not to burn.

In a large pan on medium heat, melt coconut oil.

Add garlic, fennel and greens.Toss to mix garlic and fennel and sauté 3-5 minutes.

Add chicken/veg stock and cover another 5-7 minutes until greens are tender.

Just before serving, sprinkle in raisins and walnuts.
Sign-Up for our Newsletter!