Greens n' Goji Berries
Here's a great power dish as a side or main for breakfast, lunch or dinner.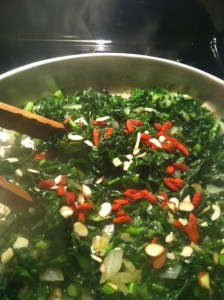 Ingredients
1 bunch of of kale or collard greens, washed and sliced thin– use leaves and stems.
1 small onion, chopped
2 Tablespoons goji berries
2 Tablespoons sliced almonds
2 teaspoons coconut oil, olive oil, ghee or butter                                                                                                           2 teaspoons soy sauce
Method
Warm oil of choice in a large pan on medium heat.
Add diced onion and saute for 5 minutes until fragrant.
Next, add chopped greens and drizzle soy sauce and stir to mix.
Cover to steam/saute 5-7 minutes, stirring occasionally to prevent burning.
Sprinkle almonds and goji berries on top, stir to mix and enjoy!
Sign-Up for our Newsletter!