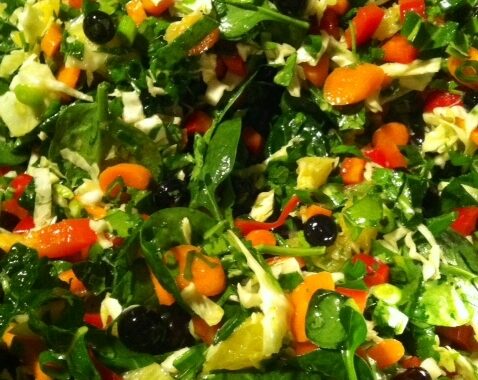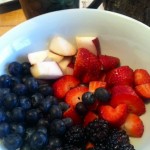 I'm breaking all the rules. I'm eating Summer fruit on the last day of January. For weeks now the temps in the Hudson Valley and much of the Northeast have been in the single digits overnight and not much higher in the daytime. The sun is high at noon, then disappears a few hours later and being the Winter bear that I am, I need and want more sleep. Being the Summer lover that I am, just this week I began to suffer.
I love my life in the country. I love my home. I am crazy for my woodstove- all of it. Bringing wood inside, stacking it, tending fire first thing in the morning, last thing at night and many times in between. I even enjoy the daily sweeping of wood chips and ashes that scatter around the hearth.
For me, as I honor the rhythms of the seasons, Winter is about simplifying- resting, writing, cooking- and on many days, I take a delicious nap. Right in front of the woodstove. Oh I just love it. Waking up to the glow of the fire?  It's blissful really. A few nights ago, amazingly- a heart appeared in the window of the stove! A confirmation that all is very, very  well.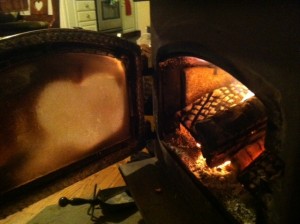 I also love the beach.  Warm sunshine, long days, bike riding, hiking in the woods, being barefoot, getting tan, tending flowers, eating outside, counting fireflies, wearing dresses and all things Summer. As the final days of January arrive, I'm noticing that my delight of the brisk air in my lungs, bundling up and getting outside for walks- or going anywhere for that matter- is waning.
Yesterday, afternoon,  I ventured out, opting to drive to a pretty road I've always thought to walk on. And you know what? I went on strike. I wouldn't get out of the car. I talked myself into it, got out- for about 1 1/2 minutes, enough to photograph this pretty barn, and got right back into the car. My walk on a beautiful road turned into a drive on a beautiful road.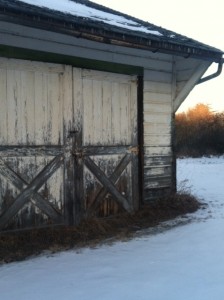 My mind has gotten the best of me. I'm indoors a whole lot more than usual. But even your favorite song played all day long gets old right? So as I peruse the temps of Belize, Mexico, Costa Rica and Hawaii on my weather channel app, (and set them all as favorites) I'm eating Summer. Today. Probably tomorrow too. Grateful for the ability to eat some organic fruit in January from far far away. I will head outside today and walk-  I know it's good for me in every way, therefore I'll do it.
In the meantime, I'll be eating lots of this. I hope you will too. Make a lot. Oh, I'm strongly considering having a July in January party. No kidding.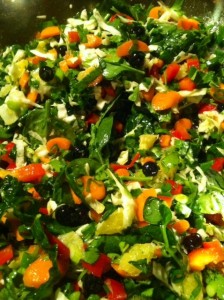 Summer Salad in January
Serves 6
Ingredients:
3 Cups baby spinach
2 Cups cabbage, sliced
4 carrots, sliced
1 red pepper, chopped into bite sized pieces
3 oranges, peeled and sectioned, pits removed
1 pint blueberries
6 scallions, sliced (use white and green parts)
Dressing:
juice of 2 oranges
1/4 Cup olive oil
1/4 Cup raw apple cider vinegar
a few splashes of ume plum vinegar (found in natural food stores)
Method:
Combine all ingredients in a large mixing bowl.
Toss together to be sure all ingredients and dressing is incorporated.
Add grilled shrimp, grilled chicken or cooked beans to make it a meal.
Eat barefoot, with eyes closed, imagining your most fun Summer moments.
(you may also have to have a cup of soup or tea to stay warm during the process!)
Yours in health,
Holly
Sign-up for our Newsletter!