Cooking Classes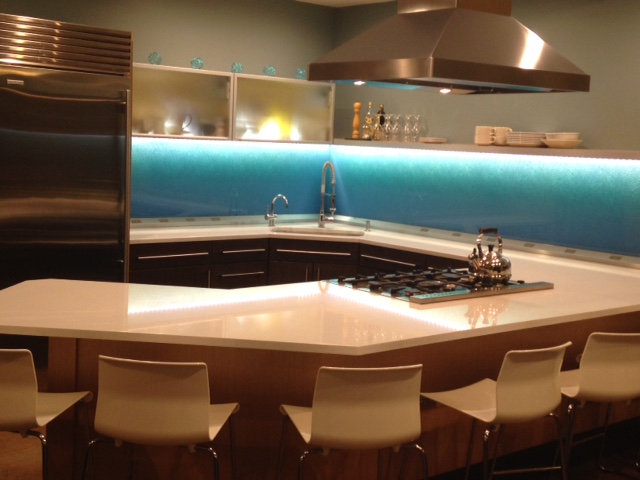 Welcome to Hudson Valley Cooking Classes~ Our classes are taught by Holly Shelowitz, Culinary Nutrition Educator.  For the past 17 years Holly has inspired thousands of people get into their kitchen and cook. We are thrilled to be in our new home. Our beautiful kitchen is located in the showroom of Rhinebeck Kitchen and Bath and is stocked with the highest quality kitchen tools from Warren Kitchen and Cutlery.
Our classes focus on fresh ingredients prepared to bring out maximum flavor. Throughout the class, Holly gives lots of helpful nutrition information, time saving tips and knife skills to make it easier for you to get dinner on the table and lunch in your box with grace and ease. You will learn about herbs/spices/ingredients and condiments that make the simplest ingredients taste like a restaurant meal. Spend time in your kitchen daily and you will be rewarded in many ways. Gather with friends and family around the stove and table and your life will be blessed.
Each 3 hour class includes hands on cooking lessons, a recipe packet to take home and a delicious dining experience enjoying the fruits of our labor. Our classes are limited to10 people to provide the attention and space for a wonderful class.
When you make payment online, look to the lower right side of the page to see your paypal shopping cart.
Bring friends and make new ones as we chop, slice and stir up a great meal together.
BONUS** When you take a class, you receive a gift card for 10% off a purchase at Warren Kitchen and Cutlery.
STAY IN TOUCH!
Be sure to sign up for our monthly newsletters and be notified about upcoming classes and nutrition info.
Newsletter sign up is on the right side of the page—–>
All classes take place at  Rhinebeck Kitchen & Bath
6783 Route 9 Rhinebeck, New York 12572
Group cooking classes are $100 per person per class, unless noted. There is a 6 month expiration date for gift certificates. Once we receive your payment, you will receive a confirmation email within 24 hours with a certificate number. You can also call us to pay by phone at 845.658.7887
GIFT CERTIFICATES!! Group cooking classes make great gifts


Purchase your gift certificates here $125




Gift Certificate
Participants enjoy a 3 hour cooking class, a delicious meal with new friends, a recipe packet to take home and a savings coupon to save 10% at Warren Kitchen and Cutlery.
We look forward to seeing you in the kitchen!
Private cooking lessons make fantastic gifts too! A private cooking lesson includes a 3 hour cooking session, all ingredients, knife skills lesson, a printed set of recipes and a full sit down dinner with a take home care package. You can do the shop or we can. Learn more about our private cooking lessons here.

Pay for them here
Private Cooking Lesson
Have a cooking class with your friends or family! Learn more here
"Super fun, delicious food and I learned so much. I met so many nice people and I've already registered for another class. I'm excited to make these recipes at home" RB
_____________________________________________________________________________________
Winter/Spring 2016 Class Calendar

Favorite Soups of the Season- Thursday March 10 6:00-9:00pm $125
Learn how to prepare these flavorful soups to soothe your body and warm your soul in any season.


Green Velvet Soup
14 Carrot Gold with Fresh Turmeric
Butternut Squash Soup with Roasted Chestnuts
Asparagus Soup with Leeks

Favorite Soups
____________________________________________________

Fast and Fabulous Meals- Thursday March 24 6:00-9:00pm $125
Learn how to prepare dishes that taste like they took hours to prepare- shh we won't tell!

Moroccan Chicken Stew
Ethiopian Spiced Chick Peas and Vegetables
Almond Apricot Quinoa
Peach Mango Custard
Fast and Fab


____________________________________________________
Global Palate Series- Learn about the flavors from around the world to excite your senses and add zing to your table. 
Journey to Thailand – Thursday March 31 6:00-9:00pm $125

Thai Coconut Soup with Ginger, Lime and Chicken




Wild Cod with Sizzling Vegetables and Thai Flavors


Jasmine Rice with Coconut Curry Sauce
Tapioca Coconut Pudding


Journey to Thailand


____________________________________________________
Global Palate Series- 

Journey to India Thursday April 14 6:00-9:00pm $125
Join us as we experience the exotic spices and flavors of India.
Saag Paneer (we will make our own Indian cheese to be used in this traditional spinach and greens dish)
Chicken Tikka Masala
Gingery Basmati Rice
Mango Lassi


Journey to India


___________________________________________________
Up Your Game- Thursday April 21 6:00-9:00pm $125
This class will show you how to raise the bar on flavor (and your health) to create your new favorite go to dishes

Kale Salad with Apple Walnut Dressing
Chicken Thighs Wrapped with Bacon /or For Vegetarians White Beans with Smoked Paprika
Crispy Greens with Garlic
Roasted Butternut Squash with Fennel
Vanilla Cardamom Cashew Cream

Up Your Game
__________________________________________________
Cancellation Policy


If you cancel with more than 3 days notice, your payment will be held for a future class. With less than 3 days notice, (72 hours) there are no refunds or credits. You are welcome to send someone else in your place. If you are registering more than 3 people for a class, 2 weeks notice is required for cancellation. You are always welcome to send someone else in your place. Because so much time, planning and expense goes into creating each class, we do not offer any refunds. We are very sorry about this.